Mitchel Zaizen



Class

Seiyuu Department Freshman

Birthday

May 17

Blood Type

A

Height

167cm (5ft 6in)

Favorite Foods

Insalata Caprese & Barbadian Food

Best Subjects

English & Biology

Favorite Colors

White & Sky Blue

Interests

Finding out if there's anything up the skirts of action figures
Appearance
Edit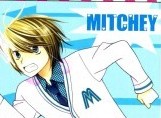 He is half Japanese and half French. Because of his mother's French blood, he has blond hair and blue eyes.
Personality
Edit
Mitchel is often called by his nickname "Mitchi" or "Michey". He is a first-year student in the voice acing department and is the one of the 4 dropouts of the voice acting class. His voice is excellent, but the reason he is in the dropout class is because he refuses to give up his foreign accent. He is full of himself, and he easily breaks under pressure. He was supposed to be the prince in their Snow White showdown, but Tsukino cursed him when he belittled Hime's talents, thus causing him to fall extremely ill before their performance. He often takes a leadership role in the dropouts' group. He also likes to play with puppets and is a masochist. 
He lived in Monaco, France until he was 7 years old. He received the puppet he uses in the extra pages of the manga from Tadashi Karino from Special A(a manga by the same author).
Mitchi is good at drawing anime faces but not bodies.
He collects anime figurines
During one of the extras he tried to have Senri bully him and Mitchi ended up bullying Senri on accident.
He later becomes an anime figurine designer instead of a voice actor.
Nanaseven432 (talk) 07:20, April 6, 2014 (UTC)