Appearance
Edit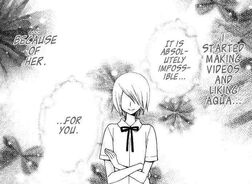 Riko or Riko-Chan (depending on the translation) first appears in chapter 8 during Ume's flashbacks when the gang ask Ume to make an anime for them. At first she is shown with her short hair. But throughout the chapter the audience learns she had the same fashion style and hair style as Ume, but she later cuts her hair short.
Relationships
Edit
Ume Ichijou
Edit
Riko was Ume's friend who loved to draw anime and was a huge fan of Aqua. In middle school, Riko who grew to hate Ume after Ume copied everything about Riko, including her drawing style. During one of the flashbacks, Riko ends her friendship with Ume by showing a picture of herself with the guy Riko and Ume both liked.
Nanaseven432 (talk) 03:04, October 9, 2014 (UTC)
Ad blocker interference detected!
Wikia is a free-to-use site that makes money from advertising. We have a modified experience for viewers using ad blockers

Wikia is not accessible if you've made further modifications. Remove the custom ad blocker rule(s) and the page will load as expected.